First 100% Electric Waste Collection Truck in Belgium.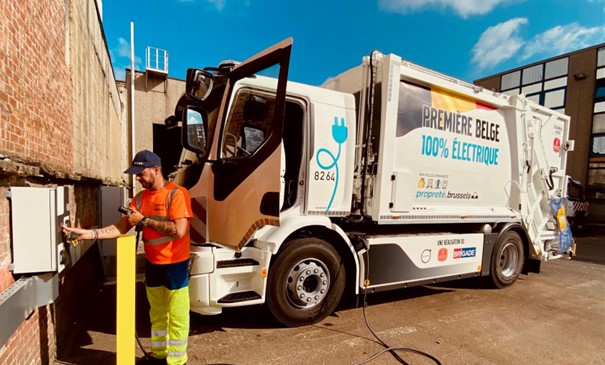 Bruxelles-Propreté takes a major step towards environmental sustainability by introducing its first fully electric waste collection truck. This Volvo FE Electric, equipped with a VDK compression system, commenced operations in early July from the Neder-over-Heembeek depot. The agency aims to test the vehicle's performance in real-world conditions and evaluate its range and maneuverability in dense urban areas.

A Powerful and Autonomous Electric Truck
The Volvo FE Electric, with a capacity of 19 tons and a loading capacity of over 5.5 tons of waste, is equipped with four 65 kW batteries, providing a range of approximately 200 km. After each route, the batteries retain an average of three-quarters of their total autonomy, ensuring optimal usage throughout the day.
To ensure the best working conditions for collection teams, the truck is also equipped with adjustable container lifts suitable for different types of routes, whether automated or involving bags.
Enhanced Safety Through Technology.

Ensuring road users' safety is a top priority for Bruxelles-Propreté.
The Volvo FE Electric features the advanced "Brigade Electronics" safety system, which uses artificial intelligence to predict potential collisions with cyclists and pedestrians around the vehicle. Real-time data calculation triggers swift alerts to the driver in the event of potential collision risks. Furthermore, a 360-degree camera provides a complete and direct view of the vehicle, ensuring a safe driving experience.

Towards an Emission-Free Fleet
The arrival of the first electric truck marks the beginning of Bruxelles-Propreté's transition towards an emission-free fleet. The agency awaits the results of this testing phase before making further decisions. Although the initial cost of the electric truck is 60% higher than that of a traditional thermal truck, the agency's analysis of "Total Cost of Ownership" predicts that reduced maintenance costs will offset this difference by 2030. Additionally, in September, another electric truck with a capacity of 26 tons, equipped with a crane and a bin, will join the fleet for glass container emptying.
Today, Bruxelles-Propreté's fleet comprises 822 vehicles, including 468 trucks. The agency remains committed to the environment by gradually replacing utility and service vehicles with electric ones. The introduction of the first 100% electric waste collection truck marks a significant step towards a more sustainable waste management vision in Brussels.
Green
This initiative relates to measure 27 of the clean.brussels regional strategy : Deploying a strategy for purchasing green goods transport vehicles and green equipment in order to reduce CO2 emissions and other forms of pollution, such as noise, generated by Bruxelles-Propreté and recommending this strategy to the municipalities in Brussels, in order to step up the use of cargo bikes, electric sweepers and low-noise blowers.